Trivia N2-86 - Optical Receiver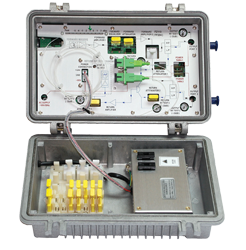 Download PDF documentation
Summary:

• Trivia N2 field optical receiver adopts high-performance optical receiving module, front-class adopting Philips low-noise microwave tube
• amplifier and output-class adopting a power doubler (or push-pull) module amplifier. It is not only performance excellent, but also
• performance to price rate high, fit for using at middle or small CATV network.
Performance Characteristic:

• Adopt high-performance optical receiver module, signal photoelectric transition efficiency high.
• Adopt power doubler (or push-pull) output module.
• Built-in plug-pull equalizer, attenuator and output brancher component, 8-class optical power display.
• Strict anti-thunder system, and high-reliability switch power.